Bali Kintamani Besakih Tour
Bali Kintamani Besakih Tour is Bali Full Day Tour Packages to enjoy Visit Kintamani Village with breathtaking view of an active volcano of Mount Batur and view of Lake Batur and then continue to visit the Besakih temple as a the biggest and mother temple in Bali islands. This Kintamani Besakih Tour will visit places interest in Bali like watching the Barong Dance Performance, Celuk Village for see beautiful gold and silver art, Tegalalang Rice Terrace is a view of rice paddy at tegalalang village, Kintamani Volcano View is mountain tourism object for see the view of Mount Batur Volcano from Kintamani Village, Besakih Temple is the biggest temple and as mother temple in Bali islands. Kintamani Besakih Tour is also offering you the wide opportunity to see the beautiful handicraft in Bali which is made by local people to bring home for your souvenir. This Bali Kintamani Besakih Tour is very comfortable with our professional Bali Tours Driver who is always outstanding offer our best service and It's a private tour with full air-conditioning car transfer. Below is short description places of interest will be visit during Bali Kintamani Besakih Tour.
Kintamani Besakih Tour Itinerary :

08:00 – Pick up at the hotel
09.30 – Visit Barong Dance Performance
11.00 – Visit Celuk Village for Gold and Silver Art
12.00 – Visit Batuan Village for Painting Art
13.00 – Visit Tegalalang Rice Terrace
14.00 – Visit Kintamani Volcano View
14.15 – Lunch at Kintamani with view Volcano
16.00 – Visit Besakih Temple
17.00 – Back to Hotel
18.30 – Arrive at Hotel
Kintamani Besakih Tour Price :

We offer two price you can choose which is Regular Tours Price and Inclusive Tours Price, Please see below the details of Bali Kintamani Besakih Tours Packages price :
Regular Tours Price :
IDR. 600.000/car ( 1 till 6 person included)
IDR. 900.000/minibus ( 1 till 12 person included)
IDR. 1.150.000/minibus ( 1 till 17 person included)
IDR. 2.150.000/bus ( 1 till 30 person included)
Inclusion : Private Car / Minibus / Bus + Petrol + English Speaking Driver
Note : Entrance fee and Lunch is not include in the price
Inclusive Tours Price :
IDR. 625.000/person
Note : For Inclusive Price is minimun Booking 2 Person
Inclusion : Private Car / Minibus / Bus + Petrol + English Speaking Driver + Entrance Fee + Ticket Barong Dance Performance + Lunch Indonesian Food + Mineral Water
Area Covered for Pick Up :
Seminyak, Legian, Kuta, Nusa Dua, Jimbaran, Sanur, Ubud, Denpasar, Benoa Harbour, Airport
Please contact us for pick up in different area
Note :
The price already include with 21% Government tax and Services
You will need to pay "Local Guide Fee" at Besakih Temple
Get special price for group booking
Regular Tours Price : is a Bali day tours price without include lunch and entrance fee, you need to pay by your own self
Inclusive Tours Price : is a Bali day tours price with include lunch and entrance fee
The tour is Private Tours, means there is no other participant, just only you and your companion
The Tour will assist by English Speaking Tours Driver
Tour Guide can be requested, contact us if you want to request Tour Guide during the trip
Time and Tourism site is subject to change based on your request.
Use contact form provide to send us message, asking information or make tour booking request.

Terms Payment
Payment is Cash Payment
Payment is on the day itself with our driver
Payment with other currency will convert based on daily exchange rate.
Barong & Keris Dance
Barong and Keris Dance performance us a Trance Dance by perform with professional Balinese dancer, the dance only perform in the morning and the dance taking story about the fighting good and evil by perform in figure Barong as the good character and Rangda as evil character. We will watch this dance during full day Ubud Tours with duration 1 hours. Is great dance to watch before continue the trip to Ubud village, the dancer bring the dance very well and make you more comfortable to watch with great story make the Barong and Keris dance more interesting.
Ubud Celuk Village for Traditional Gold & Silver Art
Celuk Village is a traditional village for the incredible gold and silver handicrafts which are available around this area for very low prices. Is been become the silver village since 1976, located not so far from Ubud Village, the people in this celuk village is very skillful in designing the silver art and is famous around the world with the quality of art and totally cheap price. Second visit during the Full day ubud tour, we will visit one of the best art place to see the process making of gold and silver art, beside that in this place also offer the custom design based on request.
Batuan Vilage for Traditional Painting Art
Batuan village is traditional village in Bali, located no so far from Ubud village. In this village is the famous traditional art painting with cheap price and totally beautiful art work. Third visit during the full day ubud tours is visit Batuan village to see process making the traditional painting and see their collection, Batuan village is always become magnet for those like the fine art, the style of traditional painting in Batuan were often dark, crowded representations of either legendary scenes or themes from daily life, freakish animal monsters, and witches accosted people.
Tegalalang Rice Terrace
Tegalalang Rice Terrace is famous tourist attraction for beautiful rice terraces, many tourists who travel to Ubud stopped at this place to witness the beauty of the verdant terraced rice field scenery or having lunch at the restaurant while enjoying the beautiful scenery of terraced rice fields. Ubud Tegalalang Rice Terrace is one of the tourist icon in Ubud Bali. The Ubud rice terrace is designed very beautiful with exquisite hollowing rice field and precisely located on the hill bank. In this place, you will see the Balinese farmer do their rice field in oblique area complete with its system irrigation.
Kintamani Village for Volcano View
Kintamani Village is a name of countryside located in the hill and the beautiful panorama surround it. We can see beautiful panorama from Kintamani to overview the active volcano of Batur Mount and wide Lake of Batur in a valley. When we stand up at Kintamani, we will be able to see the rural area which is close to the lake. Kintamani is the object of mountain tourism is very unique and stunning, with cool air condition in the daytime and cold at night. To reach these locations can be taken through the journey overland from Denpasar for 2 hours, exactly to the place called Penelokan in Kintamani District. In accordance with its name in Balinese, Penelokan means most strategic place to see the sights of nature in this tourist location.
Besakih Temple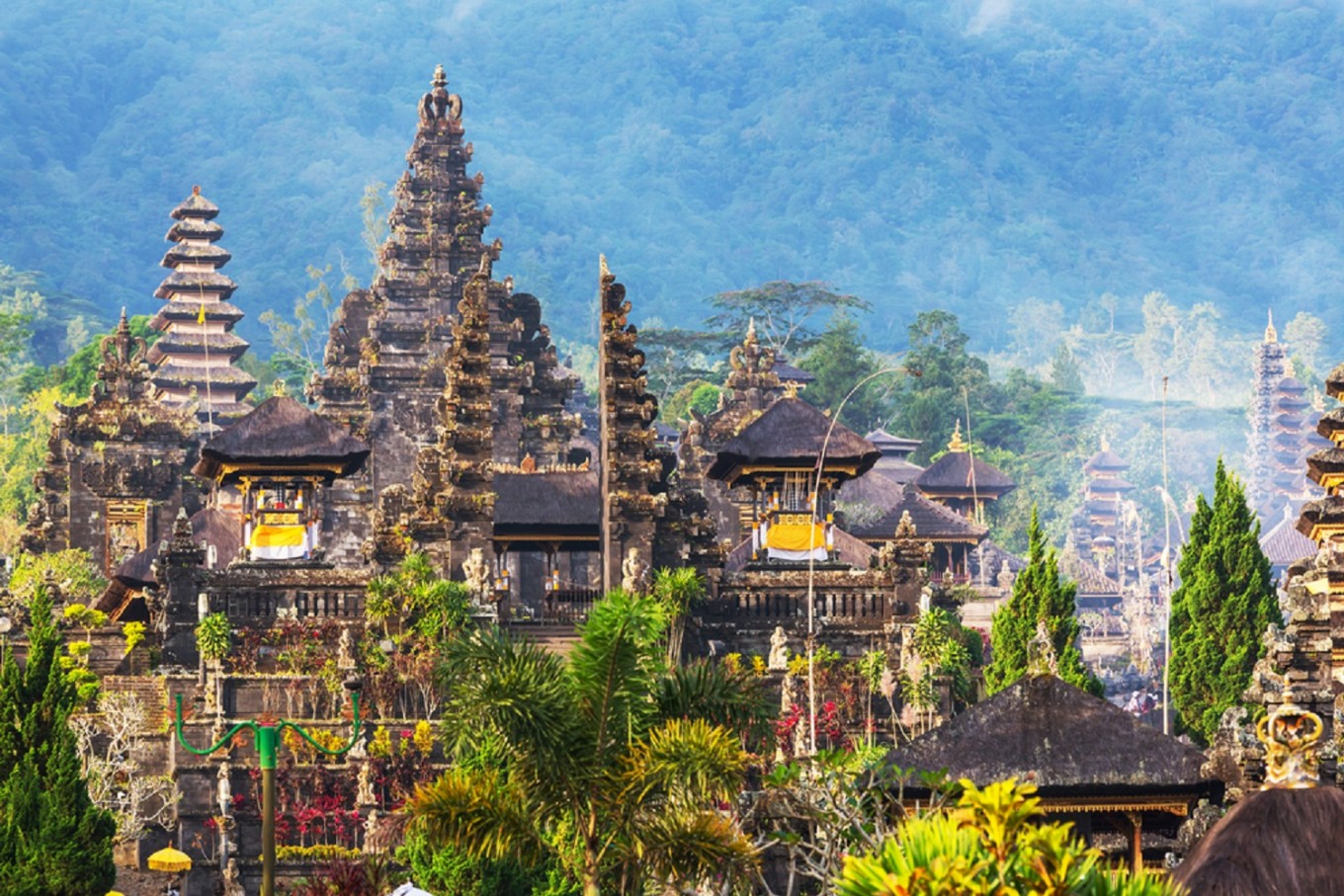 Besakih Temple known that since the 15th century, The first recorded mention of its existence is from an inscription that dates from 1007 A.D. Since the Gelgel dynasty of the fifteenth century it has been regarded as a central, holy temple for the entire island. It was regarded as the central temple of Hinduism in Bali. Besakih Temple also known as Pura Penataran Agung, is Bali's main place of worship, a complex comprising twenty-two temples set on parallel ridges. This complex expresses the essential belief of the Balinese known as Tri Hita Kirana, meaning that life on earth must be lived and kept in balance and harmony between man and God, man and society and his fellow human beings, and man and his natural environment.