SANKARA VIRAL TOUR (NUSAPENIDA & NUSA LEMBONGAN)
Included:
Ticket fastboat Return
Return Transfer Hotel (Ubud, Seminyak, Kuta, Legian, Nusa Dua, Sanur Area)
Transport at the islands
Snorkeling Equipment
Boat for Snorkeling
Lunch 1 time
Bottled drinking water (2 bottles/person)
Entrance Fee
Parking Fee
What you bring:
Sunblock/sun cream
Change clothes or swim suit
Camera
Waterproof case for gadget
Hat/umbrella
Money
I. NUSAPENIDA USD 95 / person

Snorkeling Journey + Island Tours

The following is the details of package included:


Snorkeling at three sites:
Manta Point
Gamat Bay
Crystal Bay
Manta Point
Gamat Bay
Crystal Bay
Tour to three sites at the island:
Broken Beach
Angel's Billabong
Kelingking Beach
Broken Beach
Broken Beach (Pasih Uug) is a scenic coastal formation on the southwestern edge of Nusa Penida island. The spot is marked by a hilly arch-like rock formation, which is the distinguishable landmark of the area. Set over the crashing waves of the open Indian Ocean, Broken Beach is a great spot for travel photographers and panoramic view seekers. The adjacent area is also home to grey long-tailed macaques. If you're lucky, you may spot silhouettes of giant mantas near the surface of the deep blue water.


Angel's Billabong
Angel's Billabong is a spectacular rock formation on Nusa Penida island's southwestern cliff edges. It's nearby Pasih Uug (Broken Beach), another popular site with unique limestone formations. The naturally formed rock lagoon offers a scenic seascape. You can descend into its crystal-clear rock pools for a swim or a soak, but only during low tide. The rock pools are one of the must-sees for visitors to Nusa Penida. The island itself is famous for its beautiful cliffs and pristine coastlines. Both Angel's Billabong and Broken Beach are very popular sites here. However, you'll most likely have this amazing natural infinity pool all to yourself on your visit.
Kelingking Beach
Kelingking Beach is a hidden beach in the village of Bunga Mekar, on the southwestern coast of Nusa Penida island. You can enjoy one of the most breath-taking views over the hills and small strip of white sand from atop a hill of the same name. The sight features a limestone headland covered in green, against the deep blue waters of the open Indian Ocean. This unique formation is reminiscent of a Tyrannosaurus Rex head, hence its nickname 'T-Rex Bay'. The secluded beach itself is down a rugged 400m cliffside hike. This is recommended only for the fit and adventurous.



II. NUSALEMBONGAN USD 95 / person
Snorkeling Journey + Island Tours
The following is the details of package included:
Snorkeling
Banana boat
Mangrove tour
Panorama point
Yellow bridges
Devil tear
Dream beach
Snorkeling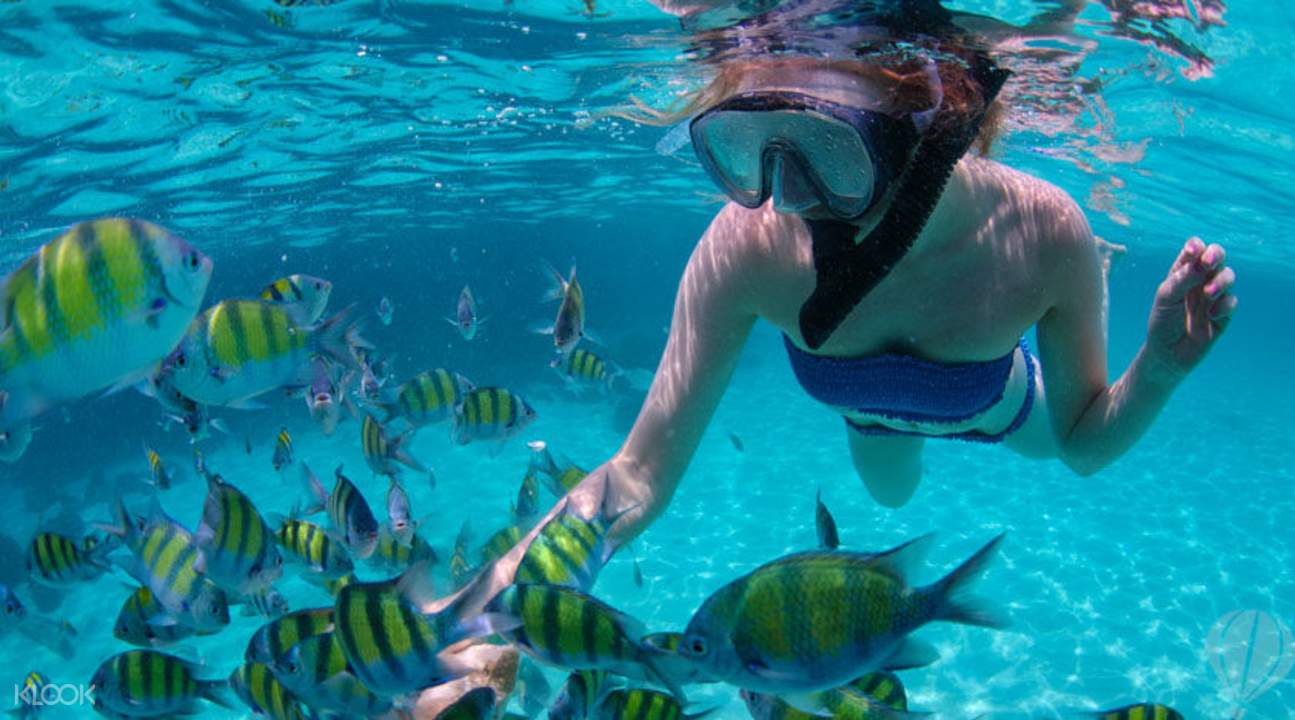 Banana boat
Mangrove tour
The mangrove tour on Nusa Lembongan is one of the interesting tourist attractions that you can do while on vacation on the beautiful island which is the Nusa Penida sub-district. It takes 30 minutes by fast boat from Bali to Nusa Lembongan, departing from the Sanur beach pier, to the Jungut Batu pier or Musroom Bay. The Bali region does have a variety of tourist attractions that are worth visiting including Nusa Lembongan, which is located on the opposite side of the island, becoming one of the tourism centers in Klungkung Regency - Bali.
Yellow bridges
This bridge connects Nusa Ceningan and Nusa Lembongan. As we have already known, Nusa Lembongan is a fairly well-known island in Bali because it has the beauty of white sand beaches. The island is also known for its underwater persona which is so popular with its dive tourism locations. Unfortunately, this bridge can only be traversed by two-wheeled vehicles or pedestrians because the bridge is quite narrow. For those of you who are curious, you are advised to rent a motorbike just to be able to access this bridge easily and not tired.
Devil tear
The Devil's Tears Nusa Lembongan is perfect for beach lovers but with different treats. For those of you lovers of photography, the spot at the Devil's Tears can be a spectacular location for hunting photos. Especially when the moment of waves crashing into the reef with the spray of water into the air. Wow, it's beautiful.
At Devil's Tears Nusa Lembongan, what you hear and feel is just the pounding of the waves that hit. Natural beaches are still natural and virgin, still so peaceful and calm that it is ideal for a place of seclusion from fatigue.
Dream beach
Dream Beach Nusa Lembongan beach attraction, a beautiful white sandy beach with clear sea water. Tourist attractions in Bali are so calm and comfortable for a place to relax, the sand is so soft beach suitable for relaxing while enjoying the natural scenery of the sea. The high cliffs that surround Dream Beach, become the natural decoration of this beach so that it appears more beautiful and charming.